The Troiker: New Project from Custom Publishing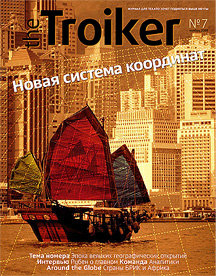 The scale and character of the Troika Dialog Goup's business activities are known far beyond Russia's borders. That makes it all the more noteworthy that the Custom Publishing Department of Independent Media Sanoma Magazines has published another issue of The Troiker magazine.
The magazine is dedicated to the new prospects opening up before Troika Dialog since forming a strategic partnership with Standard Bank of South Africa. That is why this issue is themed to the epoch of great geographic discoveries and tells the stories of the countries of Africa and BRIC (Britain, Russia, India and China). Troika board of directors chairman Ruben Vardanyan gave an interview detailing the most important tasks and goals for the company, and managing director Andrei Sharonov shared his ideas about how the investment banking business might look in the future.
The issue includes a profile of the workers in the analytical department – this year leading the rankings by the Extel Focus Russia Survey. Readers will also find a photo report of the 3-year anniversary celebration of the Moscow Skolkovo School of Management. Russian President Dmitry Medvedev acts as the chairman of the school's board of regents. The News section of the issue is dedicated to the Troika Dialog Group's participation in major international economic and business forums.
The Custom Publishing team took great interest in working on this issue of the corporate publication.