National Geographic Russia in December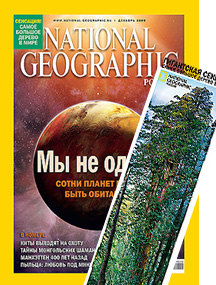 The December issue of National Geographic Russia presents readers with many pleasant surprises, foremost among them, a unique poster with an image of the world's largest tree. In order to capture the image of the giant Sequoia, photographer Michael Nichols required a team of helpers, one month of work, a giant construction and the latest computer technology. All readers will be able to evaluate the beauty of this giant of the forest thanks to the large poster insert found in the magazine.
Themes covered in this issue:
Life on other worlds. Are we alone in the universe? Scientists answered this question and calculated that there should be hundreds of inhabited planets in our galaxy alone. On which planets can life appear?
The green giant. Of the 180 sequoias that have reached heights of more than 100 meters, 130 can be found in a national park in Northern California. Scientists try to answer the question: Why does the sequoia grow to such astounding heights, and what is hidden in its dense crown?
Love on the wind. The life cycle of plants requires pollen dust and the winds that spread it. Unique macro photography reveals this secret love hidden from prying eyes.
The new issue goes on sale December 1.