Men's Health Supports Sailing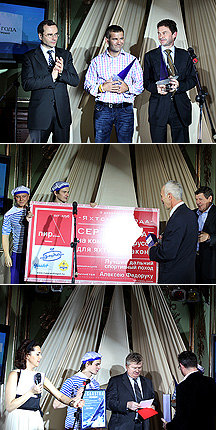 Men's Health magazine, informational partner to the All-Russia Federation of Sailing Sport, visited the Yachtsman 2009 national sailing awards.
Winners in 12 categories were announced at the Savoy Hotel in Moscow on December 3. Yevgeny Neugodnikov was named Yachtsman of the Year. Neugodnikov is the winner of the 2009 world championship in the "micro" class (August 2009, Moscow), winner of the international Yava Trophy Match Race Grade 1 ISAF (August 2009, Yekaterinburg) and the 2008 match racing champion of Europe and Russia. The Yachtswoman of the Year award went to Yekaterina Skudina, the Berlin Match Race winner and the Match Racing Champion of Russia. "Synergy" was named the best sailing team. All winners were presented with the main symbol of the award – a crystal sailboat. The awards motto is: "Sailing as a way of life!"
The web site www.sailoraward.ru contains information on the winners in each category, special prize awards and a photo report of the event. The ceremony was attended by the directors of the All-Russia Federation of Sailing Sport, the presidents of sailing class associations and representatives of regional federations – members of the ARFSS. Winners were given their awards by the president of the International Sailing Federation president (ISAF), International Olympic Committee member Goran Peterson, the Tver regional governor, ARFSS president Dmitry Zelenin, Gazprom Media head Nikolai Senkevich, the State Duma deputy chairman, State Duma Energy Committee member Valery Yazev, State Duma Sport Committee chairman Anton Sikharulidze and other prominent individuals.
Read news about the Russian Sailing Championship in the December issue of Men's Health.