Men's Health at Paramonovo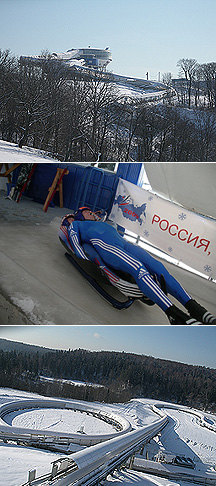 Men's Health magazine is supporting the 1st and 2nd stages of the Bobsledding World Cup for juniors, held from December 5 to 12 in Paramonovo near Moscow.
Russia's first and only bobsledding track opened in March 2009 in Paramonovo. The unique structure was developed with the participation of engineers from Moscow State University and includes three separate tracks on which riders can reach speeds of up to 135 km/h (84 miles/hr). The structure is safe for the environment because, for the first time in the world, the ice in the tracks is frozen using carbon dioxide instead of ammonia.
The December competition includes two age categories: young men women up to 17 years of age, and men and women up to 20 years old. Teams from 10 countries will compete, including Austria, Germany, Italy, Lichtenstein, Russia, Slovakia, the United States, Ukraine, Czechoslovakia and Japan. Germany, Italy, Austria and the United States are currently the world leaders in bobsledding. However, the chances of the Russian team winning at the Sochi Olympics have become significantly greater with the appearance of a bobsledding run near Moscow.
The March 2010 issue of Men's Health will run an article about the results of the World Cup for youth. On the cover will be Albert Demchenko – the best Russian bobsledder and winner of the silver medal at the Turin Olympics.