Winter Edition of Moscow-St. Petersburg Guide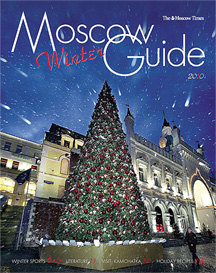 The new issue of the Moscow-St. Petersburg Guide contains information on this winter's most important events in Moscow and St. Petersburg. The publication is a joint project between The Moscow Times and The St. Petersburg Times newspapers.
The guide is released on the eve of the New Year's holiday and is dedicated to the season's most interesting stories. The material on Moscow includes a special report on a traditional form of winter recreation – the capital's ice skating rinks, as well as new opportunities for winter sports lovers. The tourism section of this issue is dedicated to Kamchatka with its phenomenal scenery and extraordinary cuisine.
The Russian table, especially at New Year's, is world-famous for its great number of dishes and time-honored traditions. Editors prepared special recipes of favorite holiday dishes: Russian salad, herring under fur coat and goose with apples. A report on interesting New Year's gift ideas will help you choose as well as gladden your loved ones.
The Moscow-St. Petersburg guide wishes all of its readers in both capitals a Merry Christmas and a Happy New Year's!