Seasons' Unbusiness-like Business Breakfast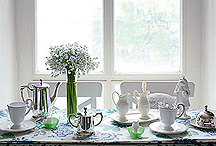 In the first half of December, the magazine conducted two unbusiness-like business breakfasts: on December 4 at the Pushkin café and on December 15 in the "library" hall of the Ararat Park Hyatt.
The breakfast menu included tea, coffee, fresh rolls, the 2010 plans of Seasons magazine and a lesson from the "Literary Cuisine" cycle of the School for Fools.
The magazine gathered its business partners and friends with whose help it had managed to sail through the stormy seas of 2009. Magazine staff told guests of their plans for the future and transported them back to their student years for an hour. Gogol was the theme for this lesson, flavored by cheese cake and blintzes with melted butter. The class was conducted by cultural studies teacher Svetlana Sidorova, and it turned out to be an especially pleasant experience to not have to speak only about ratings.