Men's Health Adventure #1: Freeriding in Krasnaya Polyana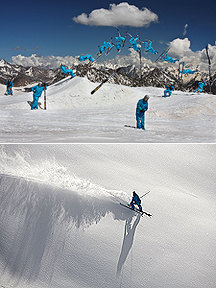 As part of the World Freeride Cup, Men's Health invites all comers to immerse themselves in the atmosphere of holiday and adventure, to become acquainted with the most outstanding representatives of the freeride movement, to take an all-day journey with an experienced guide, to attend evening parties and to see the very best freeride skiers. All of that – including the flights, transfers and lodging – is part of the Men's Health Adventure Tour #1 to be held from January 20 to 24.
The starting price for the Men's Health Adventure Tour #1 with freeriding in Krasnaya Polyana is 16,000 rubles ($530). The tour includes a roundtrip flight from Moscow to Sochi, transfers, hotel stay, and most importantly, a full day of off-the-path skiing with an experienced instructor. The price includes expert instruction, a one-day ski pass on the aerial tram, a lunchbox and admission to Men's Health Adventure Night on January 22.
Men's Health Adventure Night is a thrilling competition of jibbing (doing tricks on stair handrails), a fire show, a major DJ party, free hot drinks and the chance to schmooze with the world's strongest freeriders – who are participating in the Nissan Russian Adventure competition by Swatch. The event begins at 7 p.m. at the Gornaya Carousel complex. Interested people can sign up for the tour at www.adventure.mhealth.ru.
Men's Health Adventure is a range of trips with various themes and geographic settings, each of which will teach you to test yourself. For example, freeriding across wild lands of Krasnaya Polyana, bicycle touring in Cuba, mountain trekking in Peru, kiteboarding lessons on Mauritius Island, yachting in Anapa, mountain running in the Alps, kayaking in Costa Rica and many more.
Every journey is a true adventure and an opportunity to test yourself under unusual conditions. The travel packages and entertainment portions are organized by professionals, and yet the whole package is very affordably priced. All interested people are welcome to participate in the Men's Health Adventure program.