Yes! Let's Do Good Deeds Together!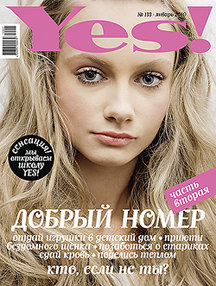 The tradition of writing about good and kind deeds started long ago at Yes! Every year, the magazine conducts various charitable actions and sponsors a boarding school. The November 2008 issue, that was entirely dedicated to charity and different forms of aid, elicited a strong response among young readers. At the same time, the magazine launched the charitable Say Yes campaign with the slogan, "Buy a button – help children." Buttons bearing the project emblem produced with an exclusive design became the symbol of the campaign. The buttons could be purchased at participating stores in Moscow and throughout Russia. Thanks to the active participation of many youth in the campaign, money was raised to treat four-year-old Sasha, a child with infantile cerebral paralysis. Part of the proceeds will also be allocated to the Give Life charitable foundation in order to help treat children with cancer.
The January issue of Yes! is the logical continuation of a kind-hearted story. It contains a photo report chronicling the magazine's editorial staff and celebrities doing good deeds – visiting orphanages and becoming donors. In addition, readers will find practical advice on how to overcome anger and animosity, and a great deal of material on helping: how and why to help.
The results of the first stage of the Say Yes campaign are also included in this issue, and there is an announcement about the new format of the charitable Say Yes campaign – with a creative tote bag as the project's new symbol of kindness, goodness and benevolence.
As before, the Say Yes campaign will enjoy wide coverage in the press, on the Internet, on radio and through various BTL promotions.
Let's do good deeds together!