New Year's Style Lesson from Collezioni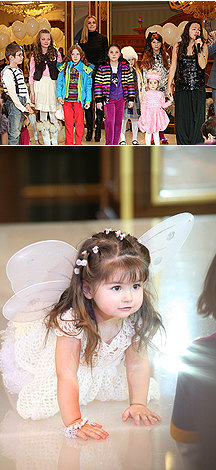 In the run-up to the New Year, Collezioni magazine and the Yakimanka children's gallery conducted their latest lessons in the School of Children's Style.
The New Year lesson in style drew more than 600 people. The holiday program was chock full of master classes, performances by dance ensembles, presentations by professional modeling agencies and, of course, Dyed Moroz and Snegurochka were on hand to congratulate guests.
In keeping with tradition, the magazine's stylists – led by Editor-in-chief Irina Chernyak – attired the children and helped them to create a stylish winter look. After a short rehearsal, the fashion-hip boys and girls showed off their outfits on the Yakimanka podium. Children's fashion shows are always a big hit with the youngsters as well as their parents. During the breaks in the fashion show, guests enjoyed sweet cocktails and everyone received superb gifts from the magazine's business partners.
Each new season is yet another chance to express yourself and your individuality. That means the School of Children's Style will continue working year-round to acquaint its young fans with the latest developments in fashion. The next lesson will be held in early spring. The date of the next event in the School of Children's Fashion can always be found in Collezioni magazine and at www.yakimankagallery.ru.