February Issue of Men's Health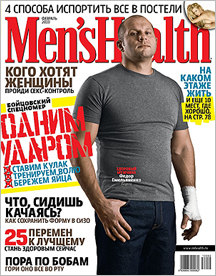 Fyodor Yemelyanenko – the undefeatable leader in ultimate fighting, the man whom the foreign press calls the "the champion of champions, the last emperor" – gives an in-depth explanation of his training routine, his guiding principles and his work. Of his 33 victories in world-class fights, Yemelyanenko clinched 22 in the first round – and of those, four in the first minute and 12 more in the second.
The February issue also announces the results of the PRO-Motion competition held from July to December 2009. Biology teacher Dmitry Gudush, who organized three activities under the aegis of Men's Health, won a new bronze colored Toyota RAV4. The second- and third-place winners won a scooter and mountain bike. The prizes will be awarded at a party in February marking the 12th anniversary of Men's Health magazine.
Participants in the Men's Health in Peru expedition gave themselves a challenge and conquered the Lares Trek mountain pass in the Andes, and came to the understanding that it is necessary to prepare oneself for any adventure: physically, morally and materially. The daily journal of editor-in-chief Kirill Vishnepolsky, with commentary and useful information about mountain trekking, is also published in this issue.
An interesting "MH Experiment" from an Australian colleague: two "editorial bugs" trained seriously for 10 weeks to get in the ring for a true boxing match. Material includes the men's daily journals, their extremely well-prepared program and commentary from the world champion of boxing, trainers and psychologists.
In the "Men's Talk" section, stories from vegetarians who attempted to determine if it is possible to live without meat. The "Extra" section includes a collection of interesting facts and observations, as well as the results of scientific research.