Cosmo Magia: Cosmetic Bag Revelations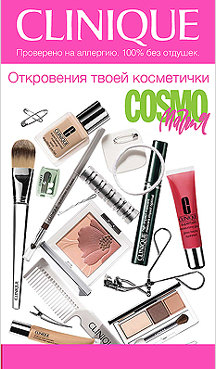 Cosmo Magia magazine and Clinique held a joint promo action in the Riv Gosh chain of stores. Everyone is well acquainted with the famous saying, "Tell me who your friend is, and I'll know who you are." But there is something else that can reveal a great deal about a young woman – her cosmetics bag.
The bag hardly closes because it is overflowing with the many things she keeps there "just in case." Or it's in perfect order because it contains only her favorite powder, mascara and lipstick. From January 15 to 31, a psychologist invited by Cosmo Magia analyzed the contents of cosmetics bags owned by young ladies wanting to take part in the campaign and told them of the peculiarities of their personalities. The cosmetics bags "told all" in the hands of the psychologist and revealed interesting details about their owners. 
Professional consultants helped everyone interested to select the best Clinique products for them, and also taught all the guests how to create their own inimitable image reflecting their particular personality type – whether light everyday make-up for practical ladies, or stunning evening make-up for true "beauty victims."