National Geographic Russia Invites Readers to Yergaki Park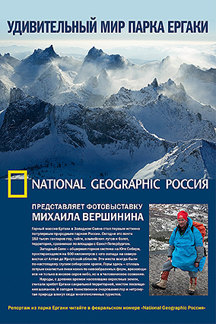 The exhibition by National Geographic Russia magazine photojournalist Mikhail Vershinin entitled "The Amazing World of Yergaki Park" will run from February 1 to 15 at the 35MM movie theater in Moscow. The exhibit is timed to coincide with the release of the magazine's February issue, which includes major coverage of the park.
The Yergaki mountain formations in the Western Sayan Mountains have become Russia's most popular natural park. Today the park includes approximately 160,000 square hectares of mountains, taiga, Alpine meadows and marshes – a territory comparable to the area of St. Petersburg. That region has always been an isolated corner of Siberia. The mountains here are a collection of scraggly peaks of indescribable form that cut their way not only into the gray sky, but into the mind of man.
Since ancient times, peoples who have settled in the area considered the Yergaki ridge to be sacred territory, a place of devotion for shamans. Today, those mysterious and enchanting mountains and pristine nature attract scores of tourists. Readers will find coverage of Yergaki Park in the February issue of National Geographic Russia.
The photo exhibit will run from February 1 to 15, 2010 at the 35MM movie theater located at 47-24 Pokrovka Street, Moscow. The exhibition is open daily and admission is free.