Wedding Comes to the Internet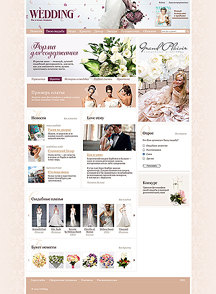 The Internet Department of Independent Media Sanoma Magazines has launched the official site of Wedding magazine – www.wedding-magazine.ru. Like the magazine, the site is dedicated to everything and anything about weddings.
The wedding industry is a young and growing business in Russia. According to Wedding magazine and site editor-in-chief Natalya Kulikova, Russia is experiencing a wedding boom and major Western players are getting into the Russian market. "That is why we launched the site now, although we had been thinking about it for a long time. The target audience has matured to the point where its members will consult the Internet when preparing for a wedding," Kulikova said.
The site will draw on all the material Wedding magazine has accumulated over the years. However, the emphasis will be on various services that ease the process of preparing for a wedding: making the budget, planning the wedding calendar, interactive wedding gown fittings and drawing up the gift list. The site's users will find the largest available catalogue of wedding dresses and honeymoon hotels.
One of the main services the site offers is the wedding dress "fitting room." Visitors to the site can select their type of figure, download their photo and "try on" the wedding attire they like most.