Yes! School Opened Its Doors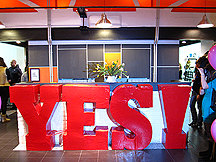 The opening ceremony of the Yes! School – a club where people of similar interests can learn something new, chat with interesting people, make friends and just have a good time – was held on Saturday, January 30 in the building housing Independent Media Sanoma Magazines.
Alexei Vorobyov acted as master of ceremonies for the event. Also on hand to congratulate Yes! were longstanding celebrities friends of the publication, media representatives from MTV, Music TV, RU TV and others, as well as the first students.
Guests could stroll among the classrooms, get personally acquainted with the instructors and celebrity experts, visit the Yes! Magaz and with their own eyes see T-shirts with Yes! magazine imprints from an exclusive collection, and taste trademark cookies and pastries. Many hurried to use the services of "the magic tree" that could grant wishes. That required fulfilling several conditions: tune in to the right wavelength, think of something positive, decide what you want most, write your wish on a piece of paper, apply a piece of magic tape to the paper, stick it to the tree and wait for the wish to come true. Celebrity guests Vladimir Shirokov, Kira Plastinina, Elektra, 23:45 and 5ivesta Family, Lena Knyazeva, Dima Tikhonov for the Balabama group, the Yes.No.Maybe group and many others signed autographs and left their comments on the "Wall of Knowledge."
According to the honorable tradition for all Yes! events, the evening closed with a gift give-away that included certificates to attend the school's master classes, tickets to the Glamor Ice skating rink, GPS navigators, an iPod nano and more. After the opening ceremony, guests continued sharing their impressions in an informal setting that gave the event a cozy and genial atmosphere.
The first lessons at the Yes! School begin on February 6. The schedule includes: photo and video courses, introduction to journalism, theatrical studio, a make-up class, a school for beginning stylists and dance and yoga lessons. There is also an open sign-up for upcoming master classes: "Braids, ponytails and other intricate weavings," "Find your style," creating with felt and gift-wrapping.
There were so many people interested in attending the School that for some subjects, additional groups were formed according to the ages of the students.
More information about the Yes! School is available at the web site www.yes.ru/school.
The Yes! School offers only those lessons that nobody would ever want to skip!