New Chief Editor at RB.ru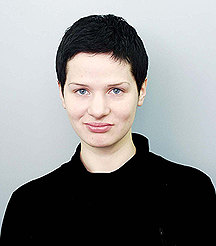 Lilia Rakshenko was named Editor-in-Chief of RB.ru business portal effective January 2010.
Lilia Rakshenko graduated from the philological department of the Chernyshevsk State University of Saratov. Since 2003 she has worked as a producer, correspondent and program editor of the "In Focus" program at the RBK-TV station. Rakshenko served as a correspondent for the SmartMoney weekly magazine from November 2005 through May 2006, and from June 2006 until March 2007 she worked as the deputy chief of policy for the newspapers Zhizn (Life) and Tvoi Dyen (Your Day).
Rakshenko served since March 2007 as Area Manager for Office Life and Blogi Expertov (Expert Blogs) at the RB.ru business portal.