Collezioni Searches for Designers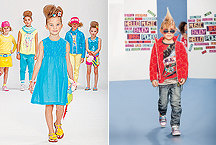 Collezioni magazine (with the Bambini publication for children) announces a contest for designers of children's clothing.
The field of children's clothing design is not well-developed in Russia. That is why the magazine decided to focus the attention of young designers on the subject. Collezioni invites designers to reveal their creative potential by submitting sketches on the theme of "Children's clothing as an element of play." The main criterion is that the clothing for children should not be a mere copy of adult clothing.
The contest's grand prize is a two-week course at the NABA Academy of Fine Art and Design in Milan in summer 2010. The prize is offered by the StudyLub company. Contest results will be announced in June 2010.
News of the contest is being announced in Collezioni magazine, in StudyLub catalogues and the company's web site as well as in selected institutions of higher learning.