Yes! Celebrates February 14 with its Readers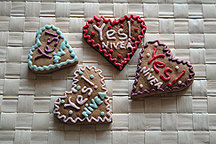 Saint Valentine's Day, or, as it is known in Russia, All Lovers' Day, is a holiday celebrated around the world on February 14. The holiday is named after one of the many early Christian martyrs – Valentine. As this holiday is usually spent with your sweetheart, Yes!, could not resist inviting its cherished readers on a date to the Karo Film Udarnik movie theater for a preview of When In Rome, Disney's most romantic movie. The film will officially be released on February 18.
To make sure the warm feelings are mutual, Yes! organized a small contest: the first readers to send the editorial offices a confession of romantic feelings will be admitted to the free showing. Each winner will receive two tickets to the screening.
Of course, the event could not take place without surprises from Yes! and Nivea Visage Young – the partner to the screening. Readers who remember to bring their lucky lottery tickets – the Valentine from the February issue of Yes! – will be eligible to receive an array of valuable gifts. Yes! promises: nobody will go home without a prize!