National Geographic Presents Magazine Gift Set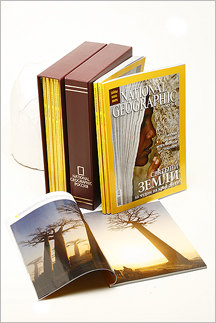 National Geographic Russia has prepared a true gift for its readers – now they can obtain for themselves or their close friends and relatives all 12 issues of their favorite magazine published in 2009. The National Geographic gift collection comes in two sets of six, representing the first and second half of the year. The sets are priced at 671 rubles each.
The magazines invites readers to explore or that is fascinating and unusual in the world around us – scientific discoveries, sensational archeological finds, fascinating expeditions, new technologies, the cultures and traditions of different countries, the amazing world of animals and unique photographs by the world's best photographers.
The National Geographic Russia gift set can be purchased through the Alpina Business Books web site at www.alpina.ru.