Children's Fantasies on the Pages of Collezioni Bambini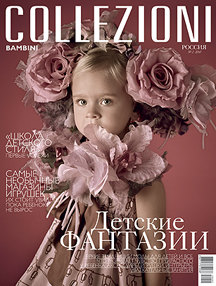 According to tradition, the February issue of Collezioni Bambini presents the main fashion trends for children for the spring and summer of 2010, as well as everything that develops a sense of the beautiful in children: accessories, toys and baubles, interiors, entertaining activities, travels and much more.
In this issue:
Fashion shoot: "The Golden Housewife:" When parents are away, it's the best time to play – at being in charge; playing games in African style;
Shopping: how dolls live and bears are born. Toy stores worth seeing while your child is still young;
"Five Young Hearts" – a joint project by Collezioni and the Lifeline charitable foundation. Boys and girls who continue enjoying life despite having undergone serious operations;
Young fashion fans who just as hip as the adults. In the Beauty column, the diverse world of flasks and bottles, sun block and moisturizing creams as well as decorative cosmetics for girls and hair products;
"100 Different Activities:" places in Moscow where you can hear a fairy tale, bake a chocolate cake, climb a fire ladder, sing an aria from "Cats" and do many other cool things;
"Flights in Dreams and Waking Life:" In childhood, everyone loves to fly: the noise of the airport, the big airplanes visible through the glass walls of the boarding area, and most of all, the thrilling flight itself. Airline company representatives tell Collezioni magazine what children do on board during flights.
This issue also includes a special invitation from Collezioni magazine and the Yakimanka children's gallery to the third lesson in the School of Children's Style. The "Spring Image" lesson shares the latest for this spring.