Vedomosti Screensavers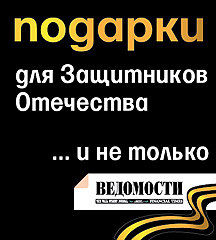 Vedomosti newspaper congratulates Russian men for Defender of the Fatherland Day.
It is the same in business as in war: to win, you must constantly be aware of your enemy's movements, and more importantly, know his face well. Now, Vedomosti screensavers can help.
"Vedomosti" screensaver provide timely online reports from the business front directly to your computer desktop. Armed with the latest news and share quotes, businesspeople will be able to easily make the best tactical and strategic decisions.
By installing the screensaver "Immersed in the World of Business," you will become acquainted with the most predatory and dangerous representatives of modern business. It will definitely make you smile and will give you fire you up for the holiday.
Vedomosti hopes you will easily gain one victory after another with all of your undertakings!