Men's Health in March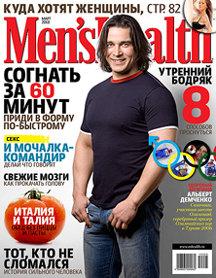 Men's Health magazine is giving detailed coverage to the Winter Olympic Games in Vancouver. The cover of the March issue sports Russian team member and six-time Olympic tobogganist Albert Demchenko. The Olympic coverage continues with a look at the sport capitals of Russia that have given us the country's best athletes in a range of sports.
The March issue also launches a series of profiles of various national cuisines. In March, the first country that comes to mind for "gastronomical tourism" is, of course, Italy. Breakfast for men, cheeses, the best Italian sausages and hams, Italian wine – the entire piece whets readers' appetites before they see the next article on the possibilities for one's private life.
A key article in this issue is the story of a person whose will could not be broken – an outstanding example of keeping a positive attitude toward life despite difficulties and hardships. Readers will learn how one man continued his athleticism and living a full life even after losing his legs.
The Men's Health Adventure competition will be held from April 9 to 18 in Dombai as part of Russia's most famous snowboarding camp, Flammable Camp Dombai. It includes the Men's Health Rail Master traditional jib contest on rails. The main prize this year will be a one-week tour at one of the world's best heliskiing resorts.