Company Directory on Vedomosti.ru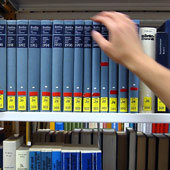 The Vedomosti business newspaper's web site, www.vedomosti.ru, is launching a new service – a company directory. The directory helps users find data quickly on companies that interest them, from shareholder info, revenue and capitalization to financial indicators and stock market quotes. The directory also contains a selection of recent company news drawn from Vedomosti publications. 
The companies are arranged in the directory according to how frequently they are mentioned in Vedomosti newspaper. Users can find which company was mentioned most often during the recent week, month or year. It is also possible to sort the companies by sector. Searching according to name or stock ticker enables users to quickly find the desired company.
Users wanting to hear about new publications and references to various companies can subscribe for email or RSS notifications on the companies' web sites.
The directory is located at www.vedomosti.ru/companies/a-z.