New Project from National Geographic Russia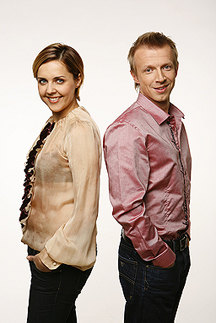 National Geographic Russia magazine and the World Wildlife Fund (WWF) are launching an unusual campaign: Russian stars Anton Komolov and Olga Shelest will go on a "carbon diet." The aim is to minimize the impact our daily lifestyles have on the environment.
The goal of the "carbon diet" prepared by National Geographic Russia and the World Wildlife Fund is to reduce carbon dioxide emissions in the atmosphere. Anton Komolov and Olga Shelest use a simple method by which they can reduce harmful emissions by at least 70 kilograms per week as they earn points for every step taken toward, for example, saving electricity or water. The experiment's participants can also receive additional bonuses and penalties. For example, watching TV or using the Internet for more than one hour gets a penalty, while buying any products made in Russia earns a bonus.
Komolov and Shelest will write weekly reports and keep blog recording their impressions. The report will include everything they accomplished or failed to achieve during the week, and the results will be used to calculate their scores. The "winner" will be the one who earns the most points and can reduce their carbon emissions to a minimum.
According to National Geographic Russia editor-in-chief Alexander Grek, "The idea for a 'carbon diet' first came from editors of the U.S. edition of National Geographic. Journalists and their families tried the method themselves and described the results in the pages of National Geographic. The results were interesting, but the lifestyle and conditions in the United States are different, and so their findings were not very representative for our country. Now we have decided to repeat the experiment under Russian conditions, and the participation of celebrities such as Anton Komolov and Olga Shelest serves to generate greater awareness. Readers will also be motivated to follow their example," he said.
All interested people are welcome to follow in their footsteps by tracking the progress of their journal on the web site www.national-geographic.ru. The WWF also developed a special calculator that allows you to measure you impact on the environment: www.wwf.ru/help_us/footprint.