National Geographic Traveler at Golden Dolphin Festival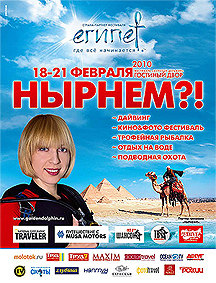 National Geographic Traveler magazine acted as informational partner to the Golden Dolphin international festival held in Moscow's Gostiniy Dvor from February 18 to 21.
The Golden Dolphin Festival is the main event of the year for the aquatic life of the country. It is a symbiosis of art, sport, tourism and leisure that brings together under one roof both professionals and amateur lovers of aquatic recreation. This year the festival set a record high of approximately 300 participants and 23,000 visitors from every region of Russia as well as abroad.
The National Geographic Traveler stand – that always attracts a large number of visitors – was in operation throughout the event. Guests to the exhibit were able to obtain new issues of National Geographic Russia and National Geographic Traveler, subscribe to the publications and purchase a gift set consisting of all the issues published in 2009.