Collezioni at "Best Shop Window of the Year" Contest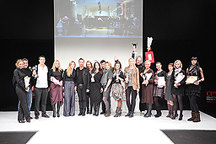 Collezioni magazine served as general informational partner to the "Best Shop Window of the Year" contest held as part of the Collection Premiere Moscow exhibition.
The third annual awards ceremony for the Shop Window contest was held on February 26, 2010 as part of Collection Premiere Moscow. This is a special event making it possible to give a quality evaluation of decorators' and visual merchandisers' ideas as expressed in the shop windows of various stores. The award is conferred for the best window dressing of a retail fashion store. This year, more than 70 companies in Russia and Ukraine that sell goods at high end or mid-range prices took part in the competition. The 40 best entries were displayed at a special art gallery from February 24 to 27 as part of the CPM exhibition. The exposition included photographs of the shop windows of stores and boutiques selling clothing, shoes and accessories.
Collezioni magazine publisher Yelena Buryakova announced the winner for the category of Art Shop Window of the Year – Premium Market Segment. The award went to the creative team responsible for dressing the windows of the TSUM department store in Moscow. The award for Commercial Shop Window of the Year – Premium Market Segment went to Nadyezhda Shepeleva for her window dressing of the Bosco Family boutique. The winner of the Shop Window – Kids award was Yekaterina Shelkovnikova for her design of the Yakimanka children's gallery.
Collezioni took part in the CPM by organizing the sale of its magazines at its stand.