Homes Overseas at DomExpo Exhibition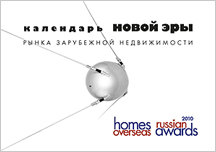 Homes Overseas magazine took part in the 23rd International DomExpo real estate exhibition, which was held at Gostiniy Dvor in Moscow. The largest real estate exhibition in Russia, DomExpo has been conducted for more than 10 years. The exhibition presented all of the most interesting overseas real estate offers, including those in such popular countries as Bulgaria, Spain, Montenegro, and Cyprus, as well as various exotic locations.
The Homes Overseas stand was outfitted under the slogan of "The Start of a New Era." The main emphasis was given to the upcoming event of the overseas real estate market – the Homes Overseas Awards. A promotional structure with a pull-off calendar was mounted on the stand that showed the days remaining until the final round of the awards. Visitors to the stand were offered a complimentary "Calendar of the New Era" that begins its count from April 8, 2010, the date of the Homes Overseas Awards ceremony. Visitors to the stand were also invited to fill out questionnaires and purchase copies of Homes Overseas magazine.