National Geographic Russia Invites Readers to See "Unfamiliar Italy"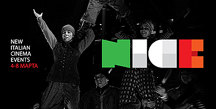 "Unfamiliar Italy" – that is the name of the exhibit by photographer Konstantin Kokoshkin who will be representing National Geographic Russia as part of the Italian film festival. The New Italian Cinema Festival was held at the 35 мм movie theater from March 4 through 8.
In southern Italy, away from the well-traveled tourist routes, there are wonderful little towns preserved in their original condition and amazingly unlike typical Italian cities. Fantastic trull structures were built in the city of Alberobello in Apulia – round stone cottages with conical roofs. They were built between the early 17th and early 20th centuries without the use of cementing materials so that they could be taken down quickly if necessary, as the old law prohibited building permanent structures in the area. Matera – an ancient cave settlement in the Basilicata province that is built into tufaceous cliff walls. It calls to mind both the Dagestani aul and ancient Jerusalem.
The film festival will include showings of "Not like that, how…who?" (2009),  "Former" (2009), "Home on the Clouds" (2009), "Lecture #21" (2008) and others.
Prior to the showing, all interested people will be able to fill out questionnaires and receive a complimentary issue of National Geographic Russia. The magazine's logo will open the premiere showings.
The exhibition will run from March 4 to 8 at the 35 мм movie theater located at 47/24 Pokrovka Street in Moscow. The exhibition will be open daily and admission is free.
Details are available on the web sites www.national-geographic.ru and www.coolconnections.ru.