Wedding School in Ararat Park Hyatt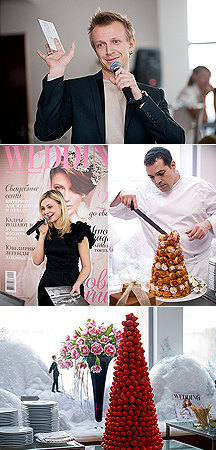 The Wedding School successfully held its most recent lessons on Sunday, February 28. Happy brides-to-be gathered in the Library room of the Ararat Park Hyatt in Moscow to listen to advice from professionals and to ask them questions. Host Anton Komolov gladly shared details from his own wedding and amused the brides with his audacious humor.
Wedding magazine editor-in-chief Natalya Kulikova explained which things not to overlook in the commotion leading up to the wedding. Specialists from the Grand Plaisir agency continued the theme of wedding preparations by presenting the brides with video footage of dazzling highlights from the many events they have staged. A talk by Ace feng shui specialists elicited a great deal of interest and numerous questions. The school's students asked such questions as: "How should the bedroom be laid out?" "What is the best place in the home for photos of the newlyweds?" "What is an obstacle to preserving the positive energy between two people?" Natalya Zhyuli, owner of the Prestige Events creative agency, described weddings in the style of Provence, France as well as the characteristics of French weddings, and experienced visagistes from the Guerlain company created a pleasing modern image for one of the brides in attendance.
In closing, everyone was treated to a luxurious cocktail reception by the chef of the Ararat Park Hyatt. A chocolate fountain, traditional French deserts and rivers of champagne from Martini provided a sweet ending to the latest Wedding School lessons.
Wedding would like to thank everyone who came to this event, and it looks forward to welcoming guests to its future meetings.