Collezioni School of Style at Yakimanka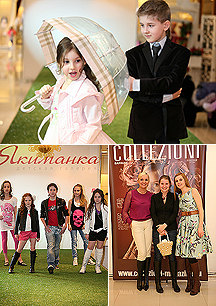 The latest event in the School of Style organized by Collezioni magazine was held last weekend as part of the first Children's Style Week at Yakimanka.
Collezioni fashion editor Natalya Yakovleva told participants of trends and new developments in children's fashion. After her talk, each young guest had an opportunity to take part in a fashion show and to feel like the star of the catwalk for a short time.
The celebration did not stop there. Guests were treated to presentations by the Academy of Children's Musicals, a dance master class from the Fred Astaire dance school and a performance by Magic Chest, a unique theater of mechanical puppets.
The Lifeline charitable foundation organized an art bazaar during the festival that offered guests the chance to buy designer toys. All monies collected will go toward charitable goals.