National Geographic Magazines at MITT-2010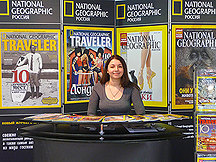 National Geographic Russia and National Geographic Traveler magazines served as informational partners to the 17th International Moscow MITT exhibition, "Travel and Tourism," that was held from March 17 to 20 at the Expocenter on Krasnaya Presnaya.
The MITT exhibition traditionally attracts more than 3,000 participants from around the world, as well as more than 100,000 visitors, including both professionals and travel lovers.
The National Geographic stand was in operation throughout the event and drew a large number of visitors. Guests to the NG stand could peruse or buy the recent issues of NG Russia and NG Traveler magazines.