Award for National Geographic Russia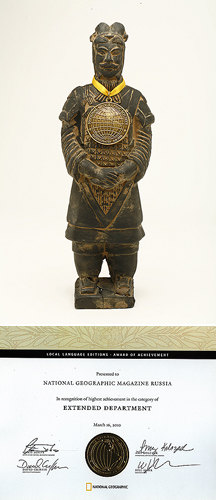 Representatives of the magazine's editorial boards from around the world attended the annual National Geographic conference in Washington. The Russian edition was represented by Tatiana Shalygina, publisher of National Geographic Russia and National Geographic Traveler and member of the board of directors of Independent Media Sanoma Magazines publishing house, as well as by Alexander Grek and Alexander Zheleznyak, the chief editors of those publications.
According to tradition, staff members of the U.S. edition of National Geographic evaluated the editorial work of the various international editions of the magazine and presented an award to the best. National Geographic Russia was awarded the prize for "Best Editorial Material."
The high honors were awarded for the article titled "Lords of the Ice" published in November 2009. Authors Andrei Bezlepkin and Andrei Kamenev reported on the amazing world of Lake Baikal in winter – the mantle of ice over the lake is not only beautiful, but can also help scientists predict devastating earthquakes.
A certificate and statuette of the National Geographic Society of the United States were presented to National Geographic Russia editor-in-chief Alexander Grek. Now, yet another prestigious award has confirmed the high quality of work performed by the Russian editorial staff of National Geographic.