Interni: in the Future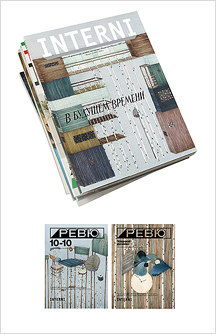 The 15th issue of Interni magazine has hit newsstands. The opening issue of 2010 is titled "In the Future."
The first section features design and architecture news from around the world: April showings in Milan, the best from the Cologne showing in January, and directors of the Salone del Mobile and Design Miami share their thoughts about the fashion scene. New projects by Zaha Hadid, Philippe Starck, Patricia Urquiola, Dominique Perrault, as well as:
evolution of the "Russian style" - Silverio Marian, Vladimir Kuzmin and Boris Uborevich-Borovsky share their experiences;
how furniture exhibitions lure visitors - plans of iSaloni, imm cologne and Venice;
what is dear to us by David Adjaye and his Skolkovo business school project.
The second section contains:
a lecture by Professor Michael Kubo from the Massachusetts Institute of Technology about books written by architects;
a cheat sheet for those who want to keep abreast of the latest ideas in the field of architecture;
the story of five new train stations.
Also: five architectural projects – a house without electricity, a house with a 300-year history, a fish factory house, a house with a bear, a transformer apartment, a story about Julius Shulman, the most celebrated architectural photographer of the world, what two dozen Russian and foreign curators and artists think about the art of the future, furniture that designers can make with their own hands and how to use a chainsaw without forgetting about fashion and style.
Plus two inserts in this issue:
Interni Review "10-10" is devoted to key projects and names in design and architecture from 1910 to 2010;
Interni Review "Watch design:" eight successful and well-known masters tell about themselves, the art of watch making and their design preferences.