100 Men's Recipes from Men's Health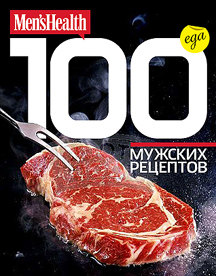 On March 30, "100 Men's Recipes" went on sale. This is the first thematic collection, or bookazine, from the creators of Men's Health magazine. The theme of the first collection - food.
Men's Health Magazine promotes a healthy lifestyle – an undeniable fact that was proven yet again by the release of "100 Men's Recipes." The first bookazine is devoted to cooking, a favorite topic among readers.
The editors selected the best recipes published in Men's Health magazine over the past few years. According to publication editor Ivan Glushkov, "We did not include any banalities or pseudo-gourmet gimmicks. This is normal, healthy, wholesome cuisine for men." The recipes are divided into eight sections: meat, fish, poultry, vegetables, soups, sandwiches, meals for guests and drinks. Each dish is marked with a label describing its main characteristics, such as "vitamin bomb," "brain food," "low-calorie snack" and so on.
Despite the fancy names of the dishes such as "Mumbai Tsypa," "Cheerful Pepper," "Decisive Salad," "The Mad Dumpling" or "Apollo Burger," all the ingredients are available in any ordinary grocery store. The cooking process is described with the Men's Health distinctive style of irony, accessibility and easy-to-understand language ("when the cranberries start bubbling, set them down," "fry until stylishly golden brown and then leave them alone," "roll out the dough into separate flat pancakes.")
The bookazine also includes useful information about cuts of meat, marinades, how to determine the freshness of fish, properties of herbs, cooking sauces, a chart for food and beverage combinations, hangover remedies from different countries and recipes for men's health.
"100 Recipes for Men" has a print run of 70,000 copies. The bookazine will be sold over a period of three months, separately from Men's Health but at the same locations where the magazine is distributed.