Moscow Photo Essay in The Moscow Times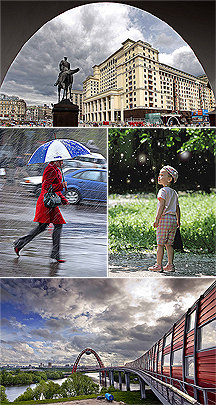 The Moscow Times opened an exhibition of its field photography last week in support of the branding campaign promoting its conversion to a full-color publication in April 2010. The venue – the Coffeemania Café on Nikitskaya Ulitsa – is never empty. Customers sometimes even stand in line for a chance to enjoy a cup of coffee and some dessert. Throughout August, all Coffeemania customers will be treated to cheerful, ironic, warm, touching photo illustrations on a variety of subjects depicting the everyday lives of Muscovites, and that convey love for our city and its inhabitants.
The newspaper has carried out several landmark projects over the years. In 2002, The Moscow Times published a photo album titled "Reflections. A Decade in Photographs. 1992-2002." commemorating the tenth anniversary of the publication. It earned a prize from the Union of Russian Journalists in 2002.
In November 2003, the Library of Congress in Washington D.C. held a photo exhibition from the collection of The Moscow Times that was devoted to the history of modern Russia and organized with the support of RIA-Novosti. The opening of that exhibition was hosted by Federation Council head Sergei Mirinov. A ceremony marking the signing of a memorandum of cooperation between the Federation Council and the U.S. Senate was also conducted in the library.
Moscow Times staff photographers Igor Tabakov and Vladimir Filonov were honored by the Moscow government with an award for journalism for their photo project titled "Faces of Moscow (2003-2004)." That same year, the exhibit traveled to New York where it was displayed at the Mimi FERzT gallery. The exhibition set out to show the face of modern Russia to the Western public. In June 2004, photos of The Moscow Times were displayed in the ArtLink company gallery in Ra'anana, Israel. The opening ceremony was attended by representatives of various diplomatic missions, including the Russian Ambassador to Israel Gennady Tarasov and Attache for Culture, Science and Education Alexander Krylov.
In addition to the projects in which the works of photojournalists Igor Tabakov and Vladimir Filonov are displayed, The Moscow Times actively supports major photo exhibitions organized by the partners of the newspaper, student photo contests staged as part of the newspaper's student-related projects as well as the "Create Yourself" charity program.