National Geographic Russia held "Thai Culture Days in Moscow"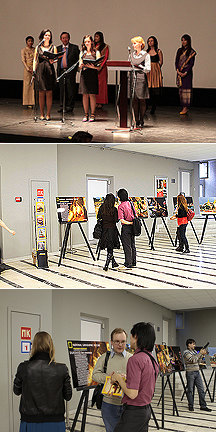 National Geographic Russia and the Tourism Authority of Thailand held the first festival of Thai culture titled "Thailand Days in Moscow" at the 35MM movie theater from April 2 to 5. Even though this was a first-time event, it attracted a large number of Thai film lovers as well as fans of Thai culture and the country as a whole.
The April 2 event was held for the partners of National Geographic Russia magazine and the Tourism Authority of Thailand, representatives of the tourism industry and the press. Guests were invited to a private screening of "Lets Meet in the Subway" (BTS: Bangkok Traffic [Love] Story). Before the showing, all comers could sample traditional Thai dishes, feel the healing power of massage, and learn about Thai pop culture. The event also included the opening of the National Geographic photo exhibition "Thailand: Two Capitals" featuring the work of travel photographers Alexei Boitsov and Sergei Moseikin.
The culmination of the evening was a prize raffle by the event's partners: Thai Airways International, Om Cafe on Novy Arbat and the 7 Colors Thai-SPA-salons. The Ambassador of the Kingdom of Thailand, Mr. Chalemphon Thanchita, was invited onstage to draw the main prize – a free trip to Thailand.
During the remaining days of the festival, visitors had an opportunity to get acquainted with Thai cinema – something Muscovites rarely get to see. In addition to Let's Meet in the Subway, three more films were shown: The Mid Road Gang, The Sanctuary and Happy Birthday.