RB.ru Journalists Fed Tie to Sergei Polonsky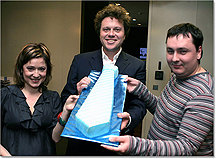 In October 2008, Mirax Group owner and chief Sergei Polonsky declared that he would eat his own tie if the prices on Mirax apartments did not increase by 25 percent within 18 months. The deadline passed on April 10.
Unlike Mirax competitors who are rumored to be preparing a real tie "covered in various sauces" for the construction company chief's consumption, RB.ru journalists prepared a more edible article of clothing – a cake in the form of a tie.
Photos and video footage of the tie-eating event are available for viewing on the RB.ru portal.