Vedomosti Counted Beacon Lights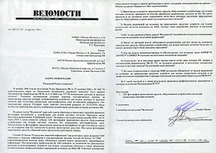 Vedomosti newspaper initiated the "Hunt for Flashing Beacon Lights" campaign on November 27, 2009 in order to draw attention to the problem of illegally installed beacon lights on private vehicles. Vedomosti is conducting the campaign along with the Serebryany Dozhd radio station.
 As of April 12, there were at least 1,201 automobiles equipped with special flashing beacon lights and sirens. That is the number of photos of such cars that Vedomosti readers have submitted to editors. That makes at least 242 more than is permitted by government decree number 737 of 2006 that fixed the exact number of vehicles in each department that can have flashing beacon lights.
Most of the vehicles equipped with flashing lights carried license plates with the number AMP97 or EKX. Eighteen cars with flashing lights were found with St. Petersburg plates, 16 from the Moscow region, six from the Saratov region and five each from Khabarovsk and Chechnya. Vedomosti readers also photographed a number of different automobiles with flashing lights that all carried the identical license plate number.
According to government decree and by order of the Interior Ministry, only the chief of the ministry's Department of Traffic Safety or his deputy is authorized to give permission to drivers to install the flashing beacon lights. Therefore, the Interior Ministry must be able to explain how it is that 242 extra cars ended up with flashing lights.
Vedomosti expects to receive a response to its query within one week's time. That is the deadline by which the law on mass media stipulates that government agencies are obligated to respond to official inquiries. Copies of the inquiry were sent to Chief of Police Rashid Nurgaliyev, the Prosecutor General's office, the government, the Office of the President, the FMO and the Federal Security Service.