Globe Forum 2010 with Harvard Business Review – Russia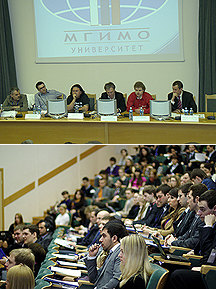 The Globe 2010 Second Annual International Youth Forum kicked off at the Moscow State Institute for International Relations on March 31. Harvard Business Review – Russia took part in the event.
The theme of this forum was "Let's change the world together: global challenges." The forum brought together young leaders from Russia and more than 20 foreign countries to discuss ways to address issues facing modern society and that require the concerted efforts of the best professionals.
Harvard Business Review – Russia magazine conducted a session titled "New Business Investments" for the Globe 2010 forum. Deputy Editor-in-Chief Dmitry Falaleyev acted as moderator of the session. Guest speakers included the following renowned venture capital market experts: Allianz ROSNO Assets Management managing director Dmitry Vasyutinsky, NeurOK LLC president Vadim Asadov, Almaz Capital Partners venture funds director Alexander Galitsky, Nival company group president Sergei Orlovsky and Parallels company vice-president Nikolai Dobrovolsky – all of whom explained the intricacies of the investment business.