Men's Health Adventure in Dombay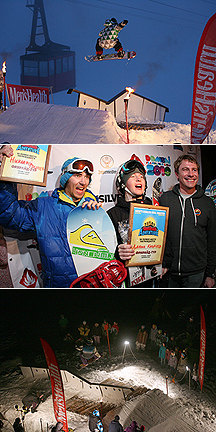 On Astronautics Day, April 12, the Men's Health Rail Master jibbing competition was held as part of the Men's Health Adventure and the Dombai snowboard camp. The winners included Nikolai Grinev of Novosibirsk (Quiksilver, snowboard) and Daniil Kalachev of Kirov (Quiksilver, Salomon, downhill skiing new school). Grigory "Green" Varaksin of Moscow also won a special prize for style in the snowboarding category. This was the first contest of this type to be held in the long history of the Dombai snowboarding camp: the competitors, illuminated by floodlights, started from the upper station of the Mayatnikovaya aerial tram.
The contest was in jam session format, with chief judge Yevgeny Konyshev keeping a constant eye on the stunts performed by the skiers and snowboarders. Konyshev is in charge of the jib installation at Quiksilver Park in Dombai. In all, 22 snowboarders and three skiers competed in the qualifying rounds, with the 10 best riders moving on to the finals.
At an altitude of 2,000 meters, and in spite of it being spring and a holiday to boot, the weather on this April 12 was far from "summery." First the competition area was enshrouded in a fog reminiscent of a Stephen King novel, with that giving way to a heavy snowfall. But even this did not prevent the men from showing their stuff. And that took real courage because, despite the best efforts of the ground crew headed by Maxim Polivko, the slope was sometimes covered in darkness such that the riders could hardly be seen.
Konyshev said, "This competition was very unusual. We were caught in a fog that normally shouldn't be here at this altitude and at this time of year. I would single out seven serious riders from among the participants whose rail work was very strong. A couple of good riders also chose not to compete in this contest – for example, Andrei Moskvin of Moscow and Denis "Bonus" Leontyev of St. Petersburg. (Moskvin and Leontyev won the Men's Health Rail Master 2009 competition and are tacitly acknowledged as the best jibbers in Russia.) But everyone did their best and rode out the competition well," he said.
The organizers conceded to snowboarders' requests and modified the prize for the Men's Health Rail Master competition. Nikolai Grinev and Daniil Kalachev were given a choice: one week of heli-skiing in Turkey or a week at Hemsedal Ski Resort in Norway – one of Europe's best freestyle parks. In the end, both winners chose to forego freeride in favor of freestyle, finding compacted snow jumps more desirable than virgin expanses. Grigory Varaksin was given a Suunto sports watch designed for extreme sports.
Participants in the Men's Health Rail Master competition hailed from Moscow, St. Petersburg, Novosibirsk, Novokuznetsk, Vladivostok, Kirov and the outlying Moscow region. The Men's Health Rail Master jam session ended with a win by Nikolai Grinev and amazed spectators the whole evening with perfectly executed tricks with disasters. The event closed out with a massive party at the Andersen bar located at an altitude of 2,000 meters, with sets performed by Masha Pirumova (DJ Sestra, Low Budget Family).