Yes!-Stars in May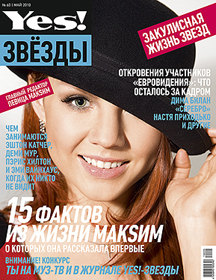 Famous people's lives are always under public scrutiny. That is natural, considering that most people are accustomed to thinking that celebrities "come from another planet" and that their lives are somehow completely different than our own. But we should look at their lives apart from the glitter of the stage because, as it turns out, they are just ordinary people who laugh and cry, get caught in traffic jams, travel about town on public transportation, enjoy watching cartoons and playing soccer. The May issue of Yes!-Stars reveals all the secrets of the offstage lives of celebrities. On the cover: MakSim. She served as chief editor of this issue and shared never-before-revealed information about her life.
Other celebrities also shared stories about their offstage lives, including Dmitry Bikvayev, Roman Arkhipov, DJ Leonid Rudenko, Univer TV series actor Ararat Keshyan, singer Lera Lera and others.
Also in this issue: everything about Eurovision 2010; paying a visit to Anna Rudneva of Ranetki; the hobbies of Paris Hilton, Pink and Amy Winehouse; an expert look at the cosmetics used by celebrities Yulia Savicheva, Anastasia Sivaeva, Alexandra Gurkova and Loi from 5ivesta Family.
Yes!-Stars – the magazine made by the stars!