The African Chronicles of Alexander Zheleznyak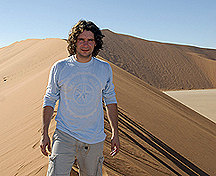 The opening of the Ethnographer Gallery took place on April 22 in the exhibition space of the Romanov Dvor Business Center. The gallery's first exhibition is a photographic project by National Geographic Traveler Editor-in-Chief Alexander Zheleznyak titled "African Chronicles."
The photo project is the result of a creative assignment Alexander Zheleznyak took to the southern regions of Africa. The editor-in-chief spent a number of days there, and his material was published in the February-March issue of the magazine. The continuation of the project will be a photographic exhibit on Namibia: Sosufley Valley, Skeleton Coast and the people of the Himba tribe. The subjects: the people of Africa and the natural beauty of the desert.
Exhibit visitors will see not just photos, but works of art printed on canvas that gives the images greater textual nuance. Also worthy of note are the custom frames made especially for the exhibit and constructed of precious Indian wood brought to Moscow from halfway around the world. First, rosewood, acacia and mango tree woods were dried in the Thar Desert, and then a master craftsman of Rajasthan used them to create the elaborately carved frames.
The exhibition runs from April 22 to May 15 at the Romanov Dvor Business Center located at Romanov Pereulok, Building 4 (Floor G). Admission is free.