New Issue of PwCampus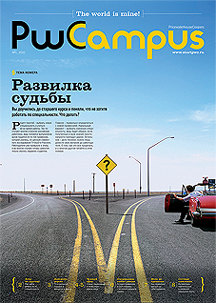 Custom Publishing presents the first issue of the PwCampus student newspaper of 2010 for PricewaterhouseCoopers. The theme of this issue: what to do if are a junior or senior in college and have just realized you want to change your profession.
Also in this issue:
The 10 most unusual offices in the world;
Careers in auditing;
How to organize meals in the office;
A selection of career blogs;
Proper conduct for business games.
The material is designed for senior students and graduates of leading Moscow colleges and universities: Moscow State University, The Moscow Institute of Physics and Technology, the Higher School of Economics State University, the Academy of Finance, the G.V. Plekhanov Russian Academy of Economics and others. The newspaper is richly illustrated and all of the material is written in colorful and clear language.