Yes!-Stars Searches for the "Stars of Vkontakte"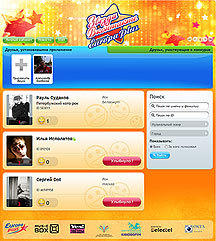 May marks the start of the "Stars of Vkontakte – Europa Plus" international competition of young performers, with Yes!-Stars serving as informational partner. The creators of the popular social network "Vkontakte" were prompted to launch the project by the appearance of masses of interesting musical projects on the Internet that record companies usually label as "no format." The project is designed to support young artists, so participation is only open to those who have not yet achieved wide popularity and who are 30 years of age or younger. Participants must install the application found at www.zvezda.vkontakte.ru, fill out a form and then upload their best songs, videos and photographs.
The contest will be held in several stages, with the finale to take place in St. Petersburg in mid-June. In addition to securing the universal admiration of the Internet audience, the contest winner will receive the main prize – the opportunity to have their songs played on the air by the Europa Plus radio station and their clip on the Music Box TV channel, a contract with a production company and the recording of their first studio album. In addition, the winner will take part in the traditional Yes! magazine concert.
The jury will include professionals in their respective fields – the Europa Plus radio station program director, Yes!-Stars magazine editorial director Irina Ilyina, famous DJs, music producers, journalists and representatives of the "Vkontakte" social network.
 
As a contest partner, the Yes!-Stars magazine logo will be posted on the contest page, on all printed materials and on Music Box TV channel commercials.