National Geographic Russia in June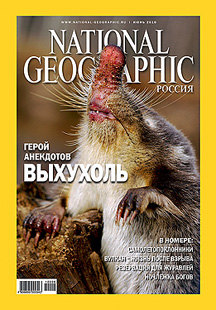 The muskrat, the hero of many a joke, is appearing this June on the cover of National Geographic Russia magazine for the first time ever. Everyone has heard of this little animal and it has long been a part of folklore. But very people know how it really looks, and many don't even know if it is a mammal or a bird. That is not surprising considering how rarely we meet with muskrats in nature. This rare species of animal primarily inhabits the territory of Russia and is listed in the Red Book of endangered species. In the June issue, readers will have the opportunity to see and learn all about this amazing creature.
Also in this issue:
Airplane worshippers. The inhabitants of Tanna Island believe that the Americans have received all the blessings of civilization because they know which gods to worship and the correct way to venerate them. In order to recreate their success, the natives attempt to copy the rituals they observed among visiting U.S. marines.
Volcano – life after the eruption. Scientists in the U.S. conduct an unusual experiment: they observe how nature that has been destroyed by a volcano is able to regenerate itself without human intervention.
Cave temples. Unique Buddhist monuments are hidden under the sands of the Silk Road. In antiquity, the Mogao Cave was a place of pilgrimage for monks – and now for tourists.
Northern light. Lighthouses on the White Sea appeared relatively recently – in the mid-19 century. But in the short time since, they have become the stuff of legends: life for the people working in them can be more dangerous at times than serving in a war.
The new issue goes on sale May 25.