Yes! School at Faces&Laces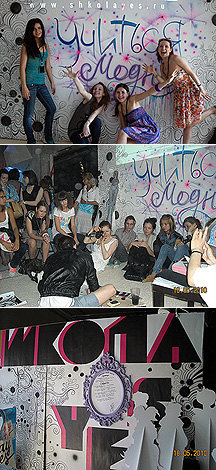 One of the most outstanding events dedicated to the fashion subculture, visual communication and alternative contemporary art took place in Moscow on May 21-22 – the Faces&Laces exhibition. More than 15,000 people attended during the two-day event. Young, creative and colorfully-dressed exhibition participants gathered at the Art Arsenal space.
The Faces&Laces event included a presentation of the Yes! School. Many guests remained at the stand for several hours, participating in one interesting master class after another, including:
"Maximum Handmade" from the host of Yes!-TV program "Maximum Handmade" Olga Maximova;
"Season Make-up Trends" from Yes! School "Make-up Class" course instructor Alyona Moiseyeva;
"Making Your Wardrobe" by Yes! magazine Fashion section editor and Yes! School "Style School" instructor Katya Klimova and Yes!-Stars editor and Yes! School "Style School" instructor Yunna Vrady;
"Creating handmade T-shirt prints" by designer Kirill Mintsev; tips from the Instituto Marangoni.
Every visitor to the stand was able to obtain complete information on the regular and one-time courses offered at the Yes! School, visit with the instructors and choose courses according to their interests. Those who had brought along their cameras participated in a photo shoot and received the chance to win a certificate to attend the course "Photo studio. Photography basics."
Every visitor who visited the Yes! School stand declared in one voice that studying at the Yes! School is cool and hip.