The Moscow Times Presents "Chekhov for Chekhov" Exhibition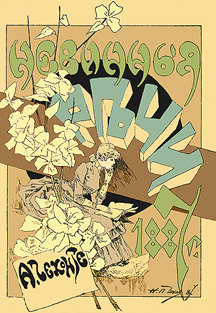 In celebration of the 150th anniversary of the birth of Anton Chekhov, The Moscow Times newspaper, the Chekhov Center humanitarian foundation, private collector Alexander Nikolayevich Podorolsky and the CoffeeMania chain of coffee shops presents a joint project – a unique exhibition of illustrations rendered by Nikolai Pavlovich Chekhov for stories by his beloved brother, the world-famous writer.
The CoffeeMania at 13 Bolshoy Nikitsky will display 23 digital reproductions of works by Nikolai Chekhov.
Nikolai Chekhov (1858-1889) is the elder brother of Anton Chekhov, his first illustrator, a talented artist and a unique cartoonist. He created several hundred drawings for the literary, artistic and humor magazines of the 1880s – Budilnik (Alarm Clock), Oskolki (Fragments), Moskva and Zritel (Spectator). Nikolai Chekhov helped paint the walls of the Christ the Savior Cathedral in Moscow. He also studied with and was a friend to artists Isaac Levitan, Konstantin Korovin and Fyodor Shekhtel.
Anton Pavlovich Chekhov described his brother as "a good, strong Russian talent…" And as often happens, the fate of that talent was difficult and even tragic. Nikolai Chekhov died while still young and his legacy was largely lost.
The Chekhov for Chekhov exhibition is the only chance to view the works of this remarkable artist, on display to the public for the first time. The private collector of Nikolai Chekhov's artwork, Alexander Podorolsky, provided the drawings for the exhibition.
Stylistically different but each equally well executed, these drawings quite possibly contribute to the impression made by the great writer's work. They are also a surprising discovery, not only for admirers of Anton Chekhov's work, but also for any lover of culture.
The reproductions will be offered for sale to the patrons of the CoffeeMania café at the close of the exhibition.
The objectives of this project were:
to focus attention on the creative work of Anton Chekhov and his brother, the talented artist Nikolai Chekhov;
to emphasize the greatness and importance of Anton Chekhov's work in world culture;
to reveal the previously-unknown cultural heritage of the country in the person of Nikolai Chekhov, who worked in the finest Impressionist traditions.