Yes! School does not Close for Summer Vacation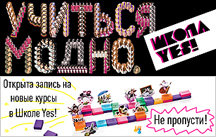 Yes! School was launched successfully in January of this year and included the following subjects: journalism, photo and video studio, beginner stylist school, make-up class and theatrical skills. The school recently graduated its first class, which numbered more than 200 students.
Despite this, the school has no plans to close its doors for summer vacation. Most students have become so immersed in the creative atmosphere and carried away by the process of education that they plan to continue their education by going to the next level of difficulty. Special programs have been developed for them that take into account their accumulated knowledge. And new student recruitment is taking place simultaneously. Classes begin in mid-June.
Over the course of the first six months of operation, the Yes! School developed its own special and unique concept conveyed in its motto: Learning is fashionable. The main strength of these classes is that students learn theory during practical lessons. This makes it possible to create very interesting courses in which the material is conveyed to the students in a simple and easily understood way. Master classes and outreach lessons are held at famous radio stations, television stations and in the creative workshops of Russian designers. The school collaborates with such projects as the Marangoni Institute, Theory and Practice, Trendy (MTV), Head Hunter and others.
The school's organizers are not content to rest on their laurels and plan to launch new courses soon such as Design, DJ school and Modeling school, as well as to develop in new and interesting directions.
Students can register for courses at telephone number 8-910-003-73-85. Details are available at www.shkolayes.ru.
Yes! School: Learning is fashionable.