Open: the Autobiography of Andre Agassi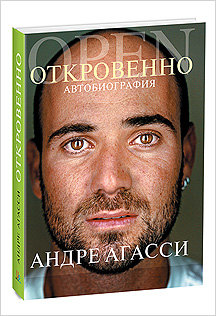 Publisher United Press has released the autobiography of the great tennis player Andre Agassi.
His father mercilessly shot hawks circling over their house, his sister ran off with an aging tennis player, and Andre could not decide what to buy with his very first earnings – a much-needed sweater or a gift for a girl that he liked.
Agassi's biography seems like the fairy tale of a young boy who conquers the world around him as well as the world of tennis: it includes an aggressive father with a heavy hand, an out-of-work and meek mother who did not dare to intercede for her son and the hate-filled little Andre with his round-the-clock workouts on the court.
The legendary athlete humorously describes the years of his difficult childhood and rebellious youth, the joy of true friendship and the pain of failure in his personal life. He recalls victory, trauma, difficult life circumstances (from hair loss to the loss of friends) and incredible coincidence… Andre Agassi candidly reveals the nature of his relationship with Barbara Streisand and Brooke Shields and of his constant rivalry with Pete Sampras. He relates emotional stories from his life for which he only found meaning after experiencing true love with Steffi Graf, feeling the joy of fatherhood and learning to win for the sake of the people who need his support. His story will prove to readers that athletes not only know how to write, but how to deeply touch their hearts.