"Complete Order" at United Press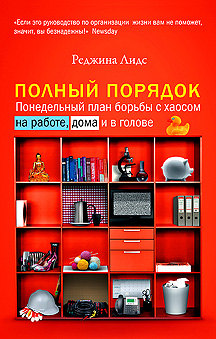 United Press publishing has released a book by Regina Leeds titled "Complete Order: The Monday Plan to Combat Chaos at Work, Home and in Your Head."
Regina Leeds offers witty and perfectly appropriate tips for establishing order in the office, home and in your head; learn to categorize objects, create a convenient system for storing documents and keeping archives, do a high-speed general cleaning, save time, establish and maintain a healthy daily routine, make thoughtful preparations for vacation time and more.
According to Regina Leeds, now is the time to put everything that hinders you from working and living into an imaginary box labeled "Sabotage: no longer needed." She is certain that disorder in the home and at work creates messy thinking and reduces productivity and creativity – with the reverse also being true.
What's more, readers and staff of the New York Times are positive that with the help of this book by Regina Leeds, even the most scattered and hectic person can become organized.