Summit of Brand Leaders with Harvard Business Review – Russia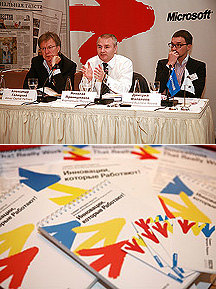 The 8th Annual Brand Leader Summit was held in Moscow from June 8-9, 2010. The summer was dedicated to discussing the latest technological innovations and key trends that will have an impact on business, communication and the market in the coming years.
The summit brought together leaders of major innovative Western and Russian companies such as Microsoft, Almaz Capital Partners, MegaFon, НР2, Optogon, Depot WPF, VimpelCom, Splat, LBL Insight, МТS, Samsung, Intel, Nestle, Deloitte CIS, Yandex, 3М, Philips, IBM, Digital Production AiLove and others.
Harvard Business Review – Russia Deputy Editor-in-Chief Dmitry Falaleyev moderated the program of the first session of the summit. The theme of that session was "Leaders of innovation: the best solutions of 2008-2010." Well-known experts in the field served as guest speakers, including Microsoft President of the Russian Mission Nikolai Pryanishnikov, Almaz Capital Partners Managing Partner Alexander Galitsky, MegaFon First Deputy General Director for Operations Valery Yermakov, HP Program Manager for Scientific Cooperation in Russia and CEE Igor Belousov and Optogan Founder and Director of Business Development Alexei Kovsh. The speakers discussed the major trends and new technologies that will influence the market in the coming years.